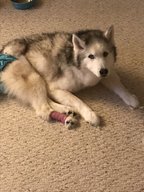 Our sweet, 16-year-old husky, Lady D, has gotten very tired and frail, and R and I are struggling to decide when the timing is right to let her go. She is a remarkable dog. She had spinal surgery 8 years ago after a child jumped on her and broke her back, and relearned to walk after being paralyzed from mid back down. Two years ago walking for any distance became too much of a struggle and we got her a set of wheels. She's been wheeling around with great enthusiasm ever since. She's the smartest dog I've ever met, and has a huge vocabulary of words and names she responds to and a few she tries to say herself. (This is a husky trait - if you look up huskies talking on you tube you'll see what I mean.). If you tell her 'I love you' she says it back!
But she's having a harder time now, and I think she's in substantial pain. She never complains, so it's hard to know for sure. But she doesn't want to get in her wheels anymore - I think it hurts when we lift up her hind end to get her into them. She can't seem to get comfortable and sometimes needs help moving from a sitting position to a lying position. (She doesn't sit like a normal dog - when she sits her back legs stick strait out towards her front, more like a little kid than a dog.) she's restless and agitated a lot of the time, dragging herself around in circles. She's worn diapers in the house since her surgery to be on the safe side, but now we've given up even pretending she's able to hold anything to go outside. And she doesn't talk anymore.
It's time. I know it's time. The last two weeks we've seen a huge change in her responsiveness and mobility. But she's still eating (a lot - she's hungry all the time but still losing weight). And just when you think the decision is made she'll seem to rally and have a good day. When she's alert and responsive and smiling it feels like murder to have her put down.
She was R's before we were together, so the final decision belongs to her. I'm trying to just stay supportive and strong. But my heart is breaking, too. She's been part of my life since just before her surgery. She fully accepted me into her pack from the moment she met me. Since I work from home, She's always there with me in my office while I work.
Oh, Lady D...